Back to Products & Services
TAA Education Foundation 50/50 Raffle
Donation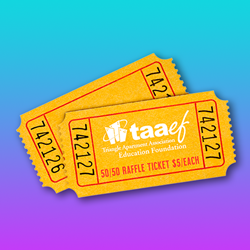 The TAA Education Foundation is facilitating a 50/50 raffle to benefit the TAAEF Scholarship Fund. The TAA Education Foundation sponsors an Education Scholarship Fund to provide a qualifying candidate or candidates the opportunity to receive funds necessary in obtaining National Apartment Association Education Institute (NAAEI) credentials.
Have you ever participated in a 50/50 raffle?
A 50/50 raffle is a split revenue, where half goes to the raffle winner and the other half is awarded to TAA Education Foundation!
Where: TAAEF "Take 5" Business Exchange aka Reverse Trade Show at the McKimmon Center in Raleigh NC.
Purchase tickets online today and at the Reverse Trade Show.
The winners of the raffle drawing will be announced at the end of the Reverse Trade Show at about 1:30pm.
You do not have to be present to win.
You can purchase as many tickets as you'd like, and will be entered into the drawing that many times.
Donations to the TAAEF are tax-deductible as it is a 501(c)3.
Contact Danielle Butler with questions or for more information.
---