HOUSE WAKE! Housing Navigation & Landlord Engagement Program
Want to End Homelessness in Wake County? Partner with HOUSE WAKE!
HOUSE WAKE! is a strategic plan to minimize the effects of COVID-19 on homeless and precariously housed Wake County residents, while maximizing opportunities for positive long-term outcomes.
You, as a property manager, have an opportunity to positively impact the lives of those at risk of becoming or currently experiencing homelessness while also ensuring your business needs are met through participating in the Housing Navigation & Landlord Engagement Program portion of the HOUSE WAKE! program.
Want to learn more? Complete this form to be contacted with more information.
House Wake! Strategic Plan Watch Recorded Info Session FAQ Contact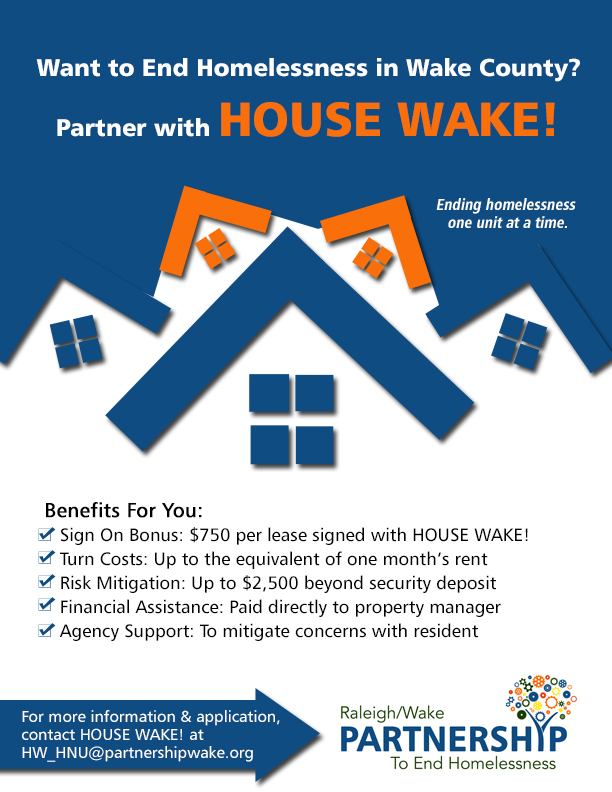 HOUSE WAKE! uses a Housing Navigation Unit (HNU) to connect housing opportunities (property managers) and those that are in need of housing. The Housing Navigation Unit provides support to individuals and families by addressing issues that may delay a household's access to housing, such as credit history, debt issues, and legal matters. They also provide continued support to participating property managers.
Program Benefits for Participating Property Managers:
Sign on Bonus: $750 per lease signed with HOUSE WAKE!
Turn Costs: Up to the equivalent of one month's rent
Risk Mitigation: Up to $2,500 beyond security deposit
Financial Assistance: Paid directly to property manager
Agency Support: To mitigate concerns with residents
By working with the Housing Navigation Unit through HOUSE WAKE!, you can help those at risk of becoming or currently experiencing homelessness increase their independence by renting them safe and affordable places to live.
Watch our recorded information session:
Frequently Asked Questions
Who screens the resident?
You do! As the property manager, you have the final approval in determining the eligibility of a resident according to your own requirements.
Are the units required to pass an inspection?
Yes, programs administered by HOUSE WAKE! require a basic unit inspection. All units will be inspected by a HOUSE WAKE! HQS certified inspector.
What can I charge for rent?
Our programs operate under the Fair Market Rent standards provided by HUD. Current 2020 Raleigh / Wake Fair Market Rents (Raleigh MSA):
Studio / Efficiency: $962
One-Bdrm: $1022
Two-Bdrm: $1163
Three-Bdrm: $1482
Four-Bdrm: $1895
Who do I call if I have a question or problem?
If the property manager has additional questions/concerns that cannot be addressed with the resident, the manager may contact the HOUSE WAKE! Housing Navigation Unit.
Who should I contact if I would like to rent additional properties through HOUSE WAKE! HNU?
If you have additional properties, apartments, or homes available to rent or would like to refer another property manager to the program, you may contact the HOUSE WAKE! HNU by email at HW_HNU@partnershipwake.org.
Will I have to change my rental application process?
No, your processes stay the same.
Can I continue to use my lease?
Yes! You will continue to do business as usual: your lease, your application, and whatever other requirements you already have will continue.
How will I get paid?
The same way your other residents pay rent! Direct deposit, mail-in check, pick up in person, online. You, the resident, & the partner agency will agree upon terms.
What paperwork do we need to get started?
We need a W-9 and a completed HOUSE WAKE! Enrollment Form.
Does it cost property managers anything to be apart of the HOUSE WAKE! Program?
No, we just ask the property manager to make the unit that they are providing be Fair Market Rent.
Can I do a shared housing lease agreement?
Yes, if that is how best you want to utilize your property with the HOUSE WAKE!.
Contact Information
Housing Navigation Unit | HW_HNU@partnershipwake.org
Want to learn more? Complete this form to be contacted with more information.