Back to Events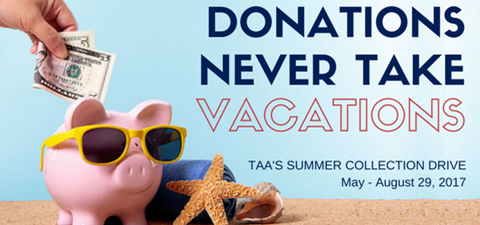 Donations Never Take Vacations: TAA's Summer Collection Drive
Tuesday, August 29, 2017
Event Details
Donations Never Take Vacations: TAA's 2017 Summer Collection Drive benefiting:
All contributions are tax deductible.
---
Collect monetary donations and items between now and August 29 to bring to our Collection Day Event. Then, join us August 29 at House of Hops anytime between 3 - 8 pm to drop off your donations and then plan on staying for drinks, food, and music bingo!
Rare Earth Farms Food Truck will be onsite from 5:30 pm - 8:30 pm and Music Bingo starts at 7:30 pm.
House of Hops will be donating 10% of sales from drafts, merchandise, and beer to-go so you'll be able to support our collection drive and a local family owned business at the same time!
---
Show Your Support
Complete and return our commitment form (above) to show your support and be added to our email list for event updates! Don't forget to join our event on Facebook for updates too!
---
Donation Opportunities
While the biggest need is monetary donations, there are a variety of donation opportunities. Please click on a category below to view the needed items.
**We can only accept new, unused, or nearly new donated items.
Companies or individuals who have committed to collect and donate in 2017's drive:
180 West Apartments
A Plus Capital Resources
AFR Furniture Rental
Artisan at Brightleaf
Ashbrook Apartments
Ashley Park
Berkshire Park
Blue Ridge Companies
Brownlee Whitlow Praet & File, PLLC
Carolinian
Century Trinity Estates
Century Tryon Place
Crosstimbers Apartments
Drucker & Falk
Fairfield Residential
First Communities
Foxfire Apartments
Full House Marketing
Ginkgo Residential
Greystar
Hyde Park Apartments
Integrity Investment Partners, LLC
Jones Grant Urban Flats
Lake Johnson Mews Apartments
Loebsack & Brownlee, PLLC
McDowell Properties
Montecito West
Palms Associates
P&R Property Consulting Group
PRG Real Estate
Real Floors
Redi Carpet
Red Rhino Group
RentPath
SERVPRO of North Raleigh, Wake Forest, & North Durham
Shellbrook Apartments
Southern Village Apartments
Station 9
The Liberty Group
The Villages at Ellis Crossing
The Waverly
TradeMark Residential
Would you like to see your name listed here?
Commit now!
*List updated 8/9/2017
---
Get your community and residents involved!
Put copies of the flyer at a mail station or a poster of the flyer in your office.
Decorate a box or money jar to leave in the office. Collect cash or checks and submit to TAA on a weekly or bi-weekly basis if you don't want to store money on site.
Summer pool party: Kick the summer off with a pool party and ask for a donation for entry to the party.
Raffle off prizes at your pool party with donation.
Waive application/administration fees if a prospect donates $___ during a certain weekend, week, or month.
Have a free Pizza Night for residents if they donate.
Regional Managers, challenge your properties to see who can collect the most and buy the winning property lunch.
Host a community yard sale and donate the proceeds!
Email residents, clients, customers, etc letting them know it's a public collection drive. They can assist your efforts or collect on their own and attend the event.
Talk to people in the public. (Example: personal insurance agents, real estate agents, doctors' offices, part-time jobs, friends, family - they're all eligible to donate or collect!
Agenda
August 29
3:00 PM - 8:00 PM

Donation Drop Time!

5:30 PM - 8:30 PM

Rare Earth Farms Food Truck

7:30 PM - 8:30 PM

Music Bingo
For More Information: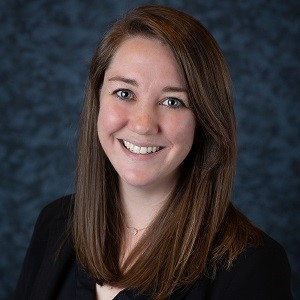 Meg Palumbo
Communications Manager
(919)782-1165x1