President's Pen, 2nd Qtr. 2023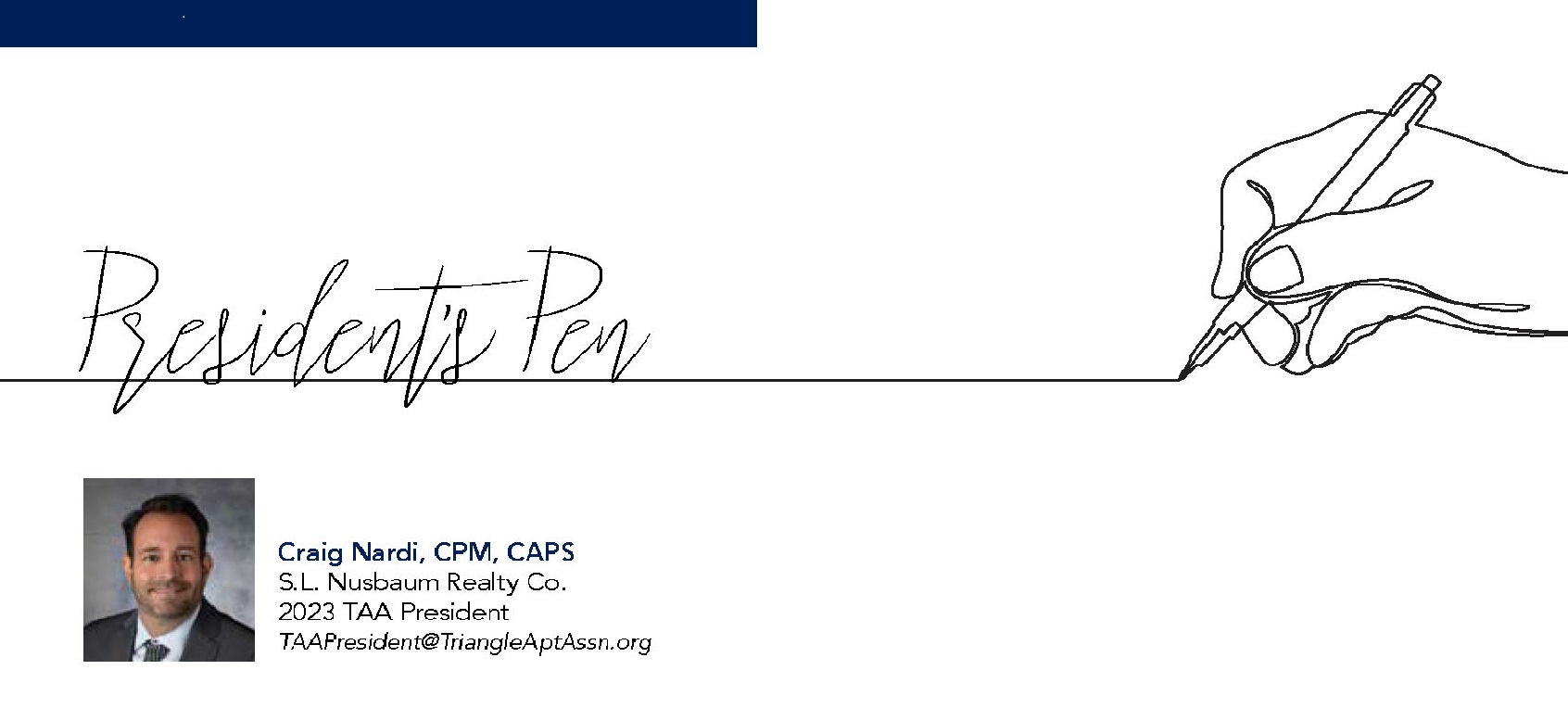 I recently attended an exceptional session provided by the Triangle Apartment Association (TAA), entitled "Maximize your Membership". The premise behind the session is to explain all the benefits that are included within membership to the TAA and strategies to navigate the Association so that you get the most value as a member.
The class had great attendance and most people in the room were brand new members, which is always exciting. As information was provided and discussion began to take place it occurred to me that so many of our members would likely benefit from a refresher.
Membership with TAA includes membership to our State Association (Apartment Association of North Carolina, AANC) as well as the National Apartment Association (NAA). What often goes overlooked is that if the company you work for is a member, then YOU are also a member and as the old saying goes, Membership has its privileges!
I feel it is so important to bring that last point out as so many of our members may join for one specific reason and not realize or take advantage of all the additional opportunities, resources and benefits available.
On the Local front, TAA is the 24th largest in the country in terms of members with over 1,138 and the 26th largest in terms of unit count covering over 167,768 homes as of May 2023. We have a full-time staff of nine made up of some of the most passionate, hardworking, brilliant individuals that work closely with our Board of directors and incredible volunteers to ensure the opportunities we offer include something for everyone and remain in line with our Mission Statement "To be the leading resource committed to the advancement of the rental housing industry through advocacy, engagement and innovation."
To break down just a portion of what is included in YOUR membership I have listed a few of my favorite things. Please know I am just scratching the surface.
Classes and Seminars-Programs that are informative, interesting, and entertaining that keep up with current trends within the rental housing industry, personal growth, or general well-being.
Designations and Certifications - We offer several Nationally Recognized Designations such as CAM, CAPS, CES and CAMT (to name a few). In addition, we work to offer certifications that are often required depending on the site and circumstance such as CPO.
Networking Opportunities Events such as After Work Networking, Golf Tournament, Trade Show, or upcoming Casino Night (just to name a few), give all our members the opportunity to meet and learn about each other or the businesses they represent.
Service Volunteer Opportunities designed to give back to our local Neighborhoods through several different initiatives.
Advocacy!! The Association works to remain informed and vocal as regulations and laws are proposed that could impact the very way we operate. At the very least we want to make sure our members are aware of what is happening, but we also know the more voices we have the better our chances are of being heard.
I initially became aware of the TAA as I had employees that needed a CPO class. I later got wind of some bills in place that would have had a negative impact on my properties, so I attended a few Government Affairs Committee meetings. Eventually, I decided to join the committee, and began to get to know other members, formed a network and developed friendships that are still in place 14 years later. What began as a simple need for a class led to more opportunities to engage and grow both personally and professionally and I now consider the Triangle Apartment Association to be the best resource available to me.
Despite why you became a member, we want to make sure you have all the tools and resources you need to perform and succeed at the highest level and hope you take advantage of everything the TAA has to offer. Please set aside a few moments each month and log onto the TAA Website (triangleaptassn.org) and view everything that is available to you. If there is something you feel we are missing, please reach out and let us know. The Triangle Apartment Association is Your association and as a member you should be making the most of it!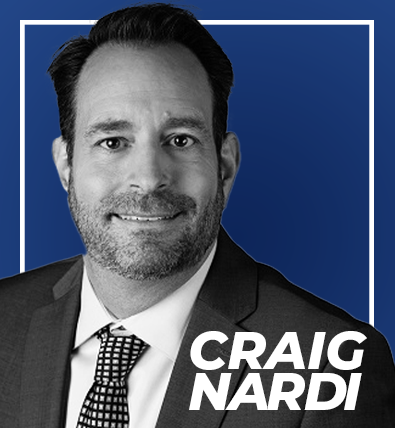 Craig Nardi, CPM, CAPS
TAA President
S.L. Nusbaum Realty Co.
taapresident@triangleaptassn.org