Back to Products & Services
2023 Board Bonding Event Sponsor
Sponsorships & Advertising | Board Sponsorships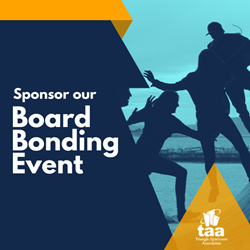 B X 3: Board, Bowling & Beer
Board of Directors Bowling & Beer Garden Tour

Date: Tuesday, July 25
Time: 11am- 5pm
Location information: We will meet at the designated location, compete in a few games of bowling (with prizes), enjoy lunch at a local restaurant, and cap off the event with a beer garden tasting session. Full event details including meeting location will be provided once sponsorship has been reserved.

Sponsorship benefits:
One (1) representative from your company will be able to attend the entire event (bowling, lunch, tasting)

TAA Board member contact information post-event
Investment: $750
Sponsorship pays for bowling alley games, team bowling shirts, shoe rentals, lunch, and sampling


Secure your spot by Monday, July 17!
Sold Out