Back to Products & Services
ENews (Single ad, monthly)
Sponsorships & Advertising | Enews Advertising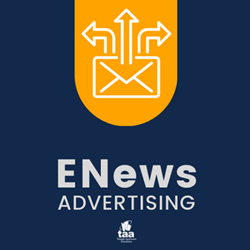 2022 ENews Monthly Advertising
This weekly email is sent to every TAA member; the potential weekly reach is over 4,800 viewers

Perfect size for your company's logo or ad with link

Sold by the Month. Each issue has space for 2 single ads, or grab both ad spaces and be the Exclusive Sponsor!

This option commits you to one of the 2 available spots. Please be aware there is not a non-compete in place!

For $50 more, you can be the Exclusive Sponsor!
The size of this ad is 260x191 px
As this information can change quickly, please know the month you request MAY not be available based on manual updates! (request preferred month(s) upon check out!)
February- 1 single ad available
March- SOLD
April-
May- SOLD
June-
July-
August- SOLD
September-
October-
November-
December-
Contact
Learn More
Fill out the form below, and association staff will contact you.
Success! Your contact request has been submitted, please allow 24 hrs for a response.