Back to Products & Services
New Lease on Life 5k T-Shirt - Marathoner Sponsor
Donation | A New Lease on Life 5k T-Shirt Sponsors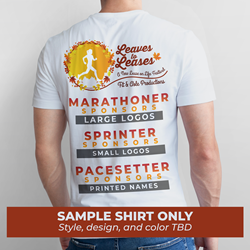 Become a shirt sponsor of the "Leaves to Leases" 5k & 8k benefiting A New Lease on Life benefiting A New Lease on Life!
Marathoner Sponsor | $1000
Large logo included on t-shirt
Recognition on NLOL Website, TAA website, race website (optional), & NLOL social media as sponsor
2 t-shirts included
 Commitment & Payment Deadline: October 30, 2022.*
---
*Payment must be received by October 30, 2022 in order for your logo to be included on the shirt.
If you would like to participate in the race, you must register separately from your sponsorship through the online registration.
No longer available